Hawai'i Agriculture Notes: Biochar
Overview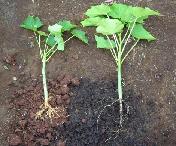 Seedlings illustrating the difference between plants grown in biochar-amended soil (darker soil on the right).
Universities
UH: doing biochar work at the Hawaii Natural Energy Institute (HNEI) Renewable Resources Research Laboratory
UH: CTAHR research
UH: Flash Carbonization:

Summary from CTAHR News: "Flash-carbonized charcoal was developed by UH Manoa professor Michael Antal. Flash carbonization locks carbon into a stable, biologically unavailable form, so flash carbonizing agricultural wastes prevents them from releasing greenhouse gasses. Charcoal can also improve a soil's ability to retain water and minerals. However, student-turned-research assistant Tai McClellan has found that the degree of carbonization is critical: adding highly carbonized macadamia nutshell charcoal to soil can benefit plants, but poorly carbonized charcoal contains volatile compounds that inhibit plant growth."
Claim: "The flash-carbonization process, first described by Antal (patent, 2004), revolutionizes charcoal production..."
News release Dec. 2007: UH creates 'high-tech' charcoal
The 3 original licensees (as of 2008):

Carbon Diversion Inc., located in Waianae, Oahu. aimed to set up plants.
July 2007: Oakland, CA-based Kingsford obtained the rights to use UH's process for cooking charcoal.
"Pacific Carbon and Graphite" which has no website
updates below under "Char in Hawaii"

Although "the charcoal produced in Antal's kiln can be used as a metal reductant, fertilizer, cooking charcoal, or to replace fuel coal", none of the licensees are yet making fertilizer.

Cornell: Associate Professor Johannes Lehmann

Lots of biochar research occurring in their Soil Biogeochemistry/Soil Fertility Management Program
Test projects all around the world - Colombia, Brazil, Zambia, Quebec..
The article Bio-energy in the black (pdf) has the basic information, dozens more papers have details
Lehmann, J. 2007. "A handful of carbon", Nature

Germany

Bruno Glaser, U of Bayreuth terra preta, and Winfried Sehn in Bingen
mentioned in BBC article Biochar: Is the hype justified? March 16, 2009, turning sewage into char. There is a high percentage of ash. It is still research. Glaser is testing biochar's use on the poor soils of northern Germany.

Mingxin Guo, DSU (Delaware)

April 2008 press coverage: "now preparing to expand his research and apply the charcoal to the soils of DSU's Blendt Farm near Smyrna."
April 11, 2008: Charcoal May Help Improve Soil Quality on NPR. Guo is extremely enthusiastic, but unfortunately implies that regular store-bought charcoal might be fine for soil.
As of March 2009, no further info. Maybe Guo is still looking for char? or funding?

Climate Friendly Farming at WSU is a 5-year project started in 2006
Japan

The Japanese have apparently been studying charcoal for agriculture for a long time, some references back to the 1980s
Carbon Sequestration by Carbonization of Biomass and Forestation: Three Case Studies

Ogawa, Makoto; Okimori, Yasuyuki; Takahashi, Fumio - Mitigation and Adaptation Strategies for Global Change, Volume 11, Number 2, March 2006 , pp. 421-436(16)
Studies were in Sumatra Indonesia, semiarid region in western Australia, and southern Kyushu, Japan
this is the update on their 1999 proposal for CFC - "Carbon Sequestration by Carbonization and Forestation"

Research guidelines: NSCSS: Biochar: Lab Characterization Options
Companies
Australia
Canada
Alterna Energy Inc. biochar (Canada)

office is in Prince George, BC, demonstration plant in McBride, BC
"Our business plans are to provide such material to promote the agricultural applications of biocarbon. We have been active in supplying biocarbon for government-sponsored field testing in Australia."

Agri-THERM Ltd. (Canada)

based in Ontario, trying to produce a portable clean pyrolysis machine
as of 2009, it says "units are not yet available for sale, however we anticipate active sales in 2009"
as of 2010, they announced: "first sale of the Agri-Therm mobile pyrolysis unit to the government of Mexico, though the University of Vera Cruz, for $1 million."
Sri Lanka
Africa
Big project: Biochar Fund

As of July 2011, the project is apparently still going strong (see video), although the site at biocharfund.org is gone
As of 2012, it seems to have ended? BFW had a critical post-mortem?

www.re-char.com has a project in Kenya

"Rutuba/Climate Kiln Version 2.0. The kiln is the only mass-produced biochar kiln in the world that can be ordered online with one click."
July 2012: "re:char has been able to reach over 750 farmers in 30 villages in Kenya's Western District"
In Hawaii
Landscape Ecology (Kapoho, Puna, Big Island)

as of December 2009, Josiah Hunt is producing local biochar using a "hybrid of a bonfire and a traditional charcoal pit method"
Available in Hilo (e.g. at Garden Exchange) and in Kea'au and wholesale
Retail prices is approximately $22.50 per cubic foot for 1/2" minus. Wholesale prices are $300 per yard for 2" minus and $350 per yard for 1/2 " minus, inoculation by compost tea is an extra $20 per yard cost.

Whispering Winds Bamboo Co-op (Maui)

They are an organic bamboo nursery with a small timber operation and small staff, since 2003. Their blog was very active from January to November 2010, when it suddenly stopped.
In October 2011, they were awarded by USDA NRCS:

"funds to convert bamboo timber waste to bio-char using a farm-scale Adams retort kiln. [..] This project will prove that installing appropriately sized farm based charcoal kilns can be cost effective, income generating and fertility enhancing to a farm operation."

As of March 2012, there is no mention of biochar from them (not blog nor website).
How best to make it, on the scale of a small farm?
Making Charcoal (Daniel O'Connor of Twin Oaks Forge) has pictures for step-by-step.

But it is still a lot of mess for a backyard or farm, and involves serious construction including welding.
In spring 2009, Kelpie Wilson in Oregon built one like that, using a single drum (see backyard biochar). It worked well once they used very dry wood cut into small pieces, and only cost $365 to build.
More pictures of Kelpie's kiln, with step-by-step descriptions

Two-drum approach
Single chamber kiln
The optimum biochar characteristics seem to result from firing at around 500 degrees C.

paper is "Temperature effects on C recovery, CEC, pH and surface area" from Lehmann (2007)

Apparently, none of the commercially proposed char-production machines (BCE, Antal's process, Eprida/eGenesis, BEST, Agri-Therm, etc.) will be available for the scale of a single medium or small farm. They are all aiming for much larger scale.
Stoves

Flanagan's small stove

A one-page pdf about his charcoal-producing stove.. The stove does not seem to be actually available in any form, although videos of it are on YouTube. His TerraCarbona page calls it the "Flanastove", says to email for more info.
2009/3/17: Heard from Flanagan again. The stove did not get funding so at this point it's just sitting on the shelf. He pointed to a Chinese charcoal kiln that can carbonize 6 tons of biomass in around 8 hrs.

Chip Energy Biomass Stove

$300, ships from Illinois, a gasifying cooking stove that produces some amount of char
Looks great! How much would shipping be to Hawaii, i wonder.

There are other cool small efficient clean-burning wood stoves, such as the Rocket Stove,, but they do not produce significant char. e.g. StoveTec, Jay's Rocket Stove
A long list of small biomass cooking stoves is at bioenergylists
New Biochar Stoves at the 2009 ETHOS Conference (January) indicates there is still nothing but prototypes and experiments
WorldStove is planning to produce small and medium-sized char-producing stoves, but not available yet.

Tesaki (Osaka, Japan, site in Japanese only) makes several clean-burning small charcoal kilns

the T105 is the smallest unit, around $4000, 26 gallon capacity
there is one brief page in English on Sumiyaki Tatsujin Natural Style Charcoal Kilns
these seem to be focused on making very small batches of high-quality charcoal, for traditional uses like art or water treatment

Charcoal at the bottom of your garden, anyone?

article from "Going Organic #73, September-November 2008" by eccentric Australian Geoff Moxham, main site Bodger's Hovel
section "Good ways to make charcoal in the firebox and on the farm"

In Hawaii, Jay (in Puna) has made his own char (see entry Terra preta do haole in his blog)

"It's simply a manner of lighting a fire in a barrel full of wood, and when it gets hot enough choking the air off so you get charcoal and not ash [...] Having significant char loads in test beds at this moment I can conclusively declare that the biochar works"
from a forum post on 2009-03-22: "Biochar is worth money. [..] I'd buy it. Really. I make it here but I'd use more. [..] Biochar will cut any farms fertilizer budget in half, easy. I can't believe it but I have the evidence now. In fact, I've found that it's really easy with char in the ground to create toxicity, and you must be very careful. Plants will survive, but the effect is very much that of over fertilization. Triple 16 is too hot if you've got char. I was surprised to see that."
14-minute audio chat on Biochar and the Rocket Stove
2010: Jay recommends an open fire, adding green wood gradually to contain the heat and minimize burn / maximize charring. When it's a big pile, put it all out with water.
Forum threads: Biochar/terra preta, B(in a)FF
My own kiln/retort (May 2010)
The classic pit method seems to work well, but there is some criticism on the biochar list of open burns, saying that emissions aren't fully combusted and carbon yield is low, recommending a kiln or even better, a retort (closed "cooking vessel").
In April 2010 i looked at plans online and found two main approaches, the two-drum and the Twin Oaks, particularly as built by Kelpie in Oregon. The first approach is too small a batch and requires multiple drum sizes, the second requires expensive metalwork including pipes and welding. I came up with a hybrid of the two approaches which should be cheap, simple and high yield.
Status as of June 2010: http://tech.groups.yahoo.com/group/biochar/message/11011
Summary: It's fairly efficient and clean. It works. But, a 55 gal. drum can make 23 lb of char per batch (one day). That's not very much, and it takes over 2 hours of labor. It also gets too hot for the wall blocks, so they break frequently.

Other experimenters report: "I built a 30 gallon steel retort. I can make about 15 lbs of char per batch. I allow a day per batch." This is very similar in lbs/gallon, and time, to my own retort.
Since the retort had issues, i looked for a way to get larger capacity and fewer parts to wear out. The idea: a pit lined with concrete blocks, which can be covered with a piece of sheet metal and soil. The blocks make a hard flat surface that's easy to unload, and cleanly separate the char from the soil.
It works surprisingly well. As with jaywfitz's method, wood is added gradually, the pile builds up and the bottom is oxygen-starved so it pyrolyzes. When the pit is full, it is covered and left for a day to cool down. The next day, there is some incompletely-charred wood at the top of the pile, but this is not a problem, it's simply put aside and added to the next burn.
No water is needed to control or put out the fire.
Because temperature never gets that high at the walls, the blocks don't crack.
It's less picky about the size and shape of the wood, because an open fire is simpler than packing a retort.
It's difficult to judge how much ash is present (and hence the level of efficiency due to consumed feedstock), but it doesn't look like much ash at all. In fact it's likely more efficient than the retort, in which the ~50% of the wood which is outside the retort is burned to ash.
A small pit of 16 x 24 x 32" (7.11 ft3,
) yields around 16-17 gallons (loose chunks) of char. It takes 33 CMU blocks to build. It took 40 minutes to load, fire and cover. The next day, it took 55 minutes to uncover, unload, and sift/sort the result using screen frames into 1/4"-, 1/4-1/2", and 1/2"+.
I estimated it should be possible for this approach to scale up significantly, and it does. See blog post Biochar: from kiln to pit.
On 2010-07-25, i got 82 gallons of char from a 160-gallon pit.
Crushing / Sifting
The pit method produces char in all sizes, from fist-sized down to dust. For agriculture, this needs to be broken down, to 1-inch for large plants or 1/2"-minus for general crops.
Doing this
Feedstock
Drying is important in a kiln: If you use green wood, you will use a lot of energy just driving off the water.
Does the type of wood matter much? Could we use the abundantly fast-growing species around here - guava, eucalyptus? A classic 1963 document on Eucalyptus robusta says it's a hardwood with most properties similar to other good trees, so: Yes.
Some commercially available biochar
Model
Capacity
Where
Price
Tesaki T105
basic retort: 105 liters
Japan
~$4000
Four Seasons Charcoal Retort
basic retort: cylinders, 6ft long by 3ft 4 inches, together ~250kg of char
UK
£17,500 (+17.5% vat)
Biochar Solutions'
B-1000
200 kg of biomass per hour to produce 50 kg char
Golden, CO
~$100k-200k ?
Genesis Industries
Model CR-2
200 kg of biomass per hour to produce 50 kg char
Redondo Beach, CA
?
Summary of commercially available char in the USA
Source
Product
Amount
Price
US$/Lb
Where
Notes
typical activated charcoal
~$2-$4
SunGro "Black Gold"
Horticultural Charcoal
2qt.
~$3
$3.45
"Western US"
Quarter Acre Orchids
Horticultural Charcoal
1 gal.
$6.50
$3.75
Alexandria, VA
Ecotechnologies
Soil Reef™
5 gallons (~9 lbs.)
$48.75 + $14.95 shipping
>$5
"Continental US"
RhizoChar Group
RhizoChar™
50 lb.
$150, includes shipping
$3
Hillsborough, NJ
"inoculated with soil food web microbes and nutrients"
BuyActivatedCharcoal
Charcoal GREEN™
Biochar
50 lb
$141
$2.82
Crawford, NE?
"inoculated with beneficial soil microbes and enriched substrates"
Energy Anew, Inc.
Biocharm™
15 quarts
(~5lb dry
weight?)
$11 retail,
$28.75-34
postpaid
~$2.20 - $6.80
San Rafael, CA
sold by volume.
pre-charged with something; site doesn't say what
Aztec Wonder
Bio-Char
27 lbs. / 6.43 gal.
$50
$1.85
Missouri.
Price is mailed; could be less locally.
Interra Energy
Interra Preta
1/2 cu ft
$15.95
~$1.60
San Diego, CA?
Landscape Ecology
1 cu. ft (~10lb dry weight)
$15/$22.50 retail
~$1.50-$2.50
Hilo, HI
sold by volume (damp) not by weight
e.g. Real Montana or
Cowboy Charcoal
typical cooking charcoal
~$1
throughout the USA, e.g. Lowes
Biochar Engineering
1 lb
$1
+ S/H etc.
$1
Golden, CO
Vee-Go
Biochar Xtra (VBX)
14 lb
(10 qt.)
$12.95
+shipping
$0.92
Easthampton, MA
($1.63/lb. w/shipping)
is also 7-3-7 fertilizer
Burt's Greenhouses
Biochar
90 L (~18.7kg,
41.2 lb)

CAN$

25
($23.43)
~$0.57
Odessa, ON
Canada
Dynamotive
CQuest™ BioChar
122 lb drums
$0.50
West Lorne, ON
Canada
"the brand the USDA is shipping to test sites around the country"
Black Earth Products
Biochar
4kg (8.8lb)

AUS

$4
$0.40
Australia
"This Product is not yet available."
Chip Energy
to be announced?
not on website
metric ton
$400
$0.20
Goodfield, IL
price reported on biochar list
CarbonChar Group
CharGrow
?
?
NJ? NC?
"IN STOCK AND AVAILABLE NOW!" but not actually?
Testing of Char
Events
United Nations Framework Convention on Climate Change (UNFCCC) - the process seems to be stalled. Some mentions of biochar have been introduced into discussions and documents, but without agreement by large countries, there is not much potential for something to actually happen.
North American Biochar Conference 2009 - Boulder, CO, August 9, 2009
Reference
Internationally, there are various sources that can be found on Alibaba.com, e.g. search for agricultural charcoal

generally these are for very bulk orders, e.g. 12 Metric Ton, 1 x 20ft containers
comment on biochar list: "I suspect that many on alibaba are not for real ... If my experiences are any indication of reality, you place the order and they raise the money and build the production facility, with your LC as collateral."

Density of charcoal

one number given is 208 kg/m3. 1 gallon is

0.0037854 m3 or 0.13368 cubic feet. So, 0.7873 kg/gallon, 1.7357 lbs/gallon, 0.86785 lbs/2qt. One liter is .001 m3, so that's 208g/L.

1 (cubic foot) = 0.0283 cubic meters, so that's 5.9 kg/ft3, or 13 lbs/ft3
another figure from Tom Miles on biochar list is 16 lb/ft3, 125 ft3/ton or 430 lb/cy. That's ~256 kg/m3, so that similar to the 208 value above.
at the density of 208 kg/m3, one ton of charcoal is around 4 m3. A 20' shipping container (~33 m3) would contain around 8 tons of charcoal.
That density is for solid charcoal. If you have bags of broken charcoal, then you must account for the volume of air as well. E.g. a cubic foot of solid charcoal would be 13-16 lbs, but a ft3 of broken char might contain only 8-10 lb of char by mass.
In July 2010, Tom Miles used the figure of 8-12 lb/ft3, so for an average, 10 lbs/ft3
In August 2010, i measured my own crushed biochar, perfectly dry, sifted to 1/2"-minus, settled firmly into a 5-gallon bucket. It weight just under 3 kg, for a density of 9.8 lb/ft3
A higher figure comes from Josiah Hunt, who reports: "18 lbs/ft3 when oven-dried overnight at 205 oF"
Aztec Wonder says it is 27 lbs/ft3, or "6.43 dry gallons"

US government

Biochar as a Pyrolysis Byproduct (pdf) from the Jan. 2008 Harvesting Clean Energy Conference

by: Hal Collins, USDA ARS, Prosser, WA

Newer: The Charcoal Vision: A Win–Win–Win Scenario for Simultaneously Producing Bioenergy, Permanently Sequestering Carbon, while Improving Soil and Water Quality

by: David Laird, USDA ARS, National Soil Tilth Laboratory, Ames, IA

October 28, 2008 - USDA to Evaluate CQuest™ Biochar (from Dynamotive)
Active biochar researcher: Dr. Jeff Novak, Research Soil Scientist, USDA-ARS-CPRC, Florence, SC

as of May 2009, was doing a 12 week study examining the effects of 9 different biochars on soil fertility, physical, and microbiological properties

History of agricultural coal, before biochar

The research of Siegfried Marian on the benefits of carbon incorporation, as reported in Leonard Ridzon and Charles Walters'

The Carbon Connection

and The Carbon Cycle, led to the development of Ridzon's NutriCarb product (made from bituminous coal, no longer being produced), which claimed agricultural benefits very similar to those claimed for terra preta.

Folke Gunther:

Carbon sequestration for everybody: decrease atmospheric carbon dioxide, earn money and improve the soil
James Lovelock:
Education resources for spreading the word
Char in Hawaii
Is there perhaps a source or site for charcoal production anywhere in Hawaii?
On 2008/3/10, wrote Dr. Antal and Dr. Uehara (mantal@hawaii.edu, goro@hawaii.edu)
On 3/20, wrote Dr. Steiner and Dr. Deenik (steiner@hawaii.edu, jdeenik@hawaii.edu)
On 3/20, called Carbon Diversion (Oahu), talked to Chris. He says they're looking at the potential of biochar projects here on the Big Island.
3/21 Emailed Robert Flanagan, asking if his char-producing cook stove is available in any form.
3/22, 3/24 Heard back from Dr. Antal, he just returned from a lecture tour in NZ. He says he and Dr. Uehara have written many proposals for Terra Preta research which have been unfortunately not funded.
3/24 Heard from Kelpie Wilson in Oregon, who has a Flanagan char stove prototype.
3/25 Spoke with Chris Venn of Carbon Diversion (CDI). He says they are considering projects in 3 places around the island, that they are near completion on a larger processing plant, should be more news soon.
3/28 Heard from Dr. Uehara, who says:

"We are now conducting additional studies to understand how and why volatile matter depresses plant growth. We hope to have some answers by the end of this summer.
The charcoal produced by CDI has been consistently low in volatile matter content so its charcoal should not cause any problems."

3/28 Wrote Flanagan again at his other address.
4/3 Visit from Michael Lurvey of CDI here on my farm. No new info, no availability of char from them.
4/14 Contact from Flanagan: keeping fingers crossed on progress of char-making stove to be built in China.

He recommends looking into Indian company Ankur Scientific which makes gasifiers at good prices. Ankur doesn't mention char on their website but they could configure a unit to produce it along with the energy.
Ankur: they possibly charge about $140k for a 500Kg/hr unit that will produce about 300kW electric power

2008/6/19 heard from CDI again
2009-January: CDI is no longer licensing Dr. Antal's "Flash Carbonization".

They claim to have an "expanded" technology they are calling "the CDI Carbonization™" Process"
They have a new partner, Mantria, a company from Tennessee/Philadelphia that was previously into real estate

2009/2/28: From garbage to gas masks $20M plant to transform nutshells into activated carbon

plant to be in Kawaihae, company is Big Island Carbon, LLC, 75-5722 Kuakini Hwy., Suite 202 · Kailua-Kona, HI 96740 (808) 769-5100. Construction to begin March 2009, "could be open by end of 2009"
CEO Rick Vidgen, rickvidgen@bigislandcarbon.com
Wrote on 3/10. They are not using "CDI Carbonization™". They have their own two-step process (carbonize, then activation) and only (for now) plan to sell to high-end activated charcoal market

2009/3/9 CDI press release Hawaii Island Community Leaders Launch Restoration and Energy Project

apparently the intention is to do something with the gorse on Mauna Kea, although the announcement doesn't say what, or how, or when, or if it's past the idea stage
A Hawaiian nonprofit, 'Oiwi Lokahi O Ka Mokupuni O Keawe, is involved. They are based in Waimea, connected with DHHL. Ed Stevens is their vice pres.

2009/4/30 updates on UH

Bruce Mathews relates that there are "a few small Puna-based farmers that are doing some of their own experiments". Norman Arancon is a new plant scientist interested in biochar and possible incorporation with vermicomposting. Bill Steiner is also interested in biochar, looking at research proposals and growers, possibly with inexpensive kilns.

2009/6/11
2009/6/14: rumor, Kingsford Charcoal's head process engineer said:

they were going to the Clorox marketing department with their plans for development [using their license of UH Antal's flash carbonization]

2009/9/29: CDI is taken over by its shareholders, the Mantria people (Knorr, Wragg). They dismiss the previous president and CEO Michael Lurvey.
2009/11/16 the SEC charges Mantria with violating the antifraud and offering registration provisions of the securities laws
2009/11/17 more details: Ponzi scheme entangled Waipahu firm

"Lurvey said after the takeover, Mantria executives closed down Carbon Diversion's office in Waipahu and shipped all of its assets and equipment — including its proprietary biogenerators and processors, computers and office supplies — to the Mainland."

Meanwhile, Lurvey has launched a new company called Carbon Bio-Engineers Inc. to market the biogenerator technology he holds a patent for. "We decided that Carbon Diversion had become so tarnished by these people and that it would take us years to get clear its name," Lurvey said. "We want to move forward under a new corporation that's totally clean."
The new site: http://www.carbonbio-engineersinc.com/

2010-2011
2012
Email Groups
biochar-list is a general group for the whole world, high-traffic
biochar-hawaii is a specific group for Hawai'i, started June 2009
Applying to the Soil: How Much?
From Chapter 12 of 'Biochar for Environmental Management', application rates for testing seem to have been in the range of 5 to 30 tonnes/hectare, which is .5 to 3 kg per square meter. The well-known early Colombia tests applied at 20 tonnes/hectare.
In Growth Promotion of Tea Trees by Putting Bamboo Charcoal in Soil (2001), they used very little: .5 kg m-2 or .1 kg m-2 each year for 5 years.
Sean K. Barry on the biochar list reports that while 10 tonnes/hectare is a common value, he gets good results with 37 tonnes/hectare (3.7 kg/m2)
Effects of Varied Soil Composition on the Growth of Radish Starts shows best results at around 33% char, for soil without much sand. However, it is a potted test may not generalize well to actual crops in a field.
Some biochar addition has been measure by percent (mass or volume) - how does that relate?

A percent isn't meaningful without a depth. For example, in the Steiner tests in the Amazon, they used "10% and 20%" char, but they used a lysimeter with a depth of 10cm. To bring 10cm of soil to 10% char by volume: the soil has a volume of .1 m3/m2, char needed is .01 m3/m2, which has mass 2.2kg.